See on Scoop.it – Community Village Daily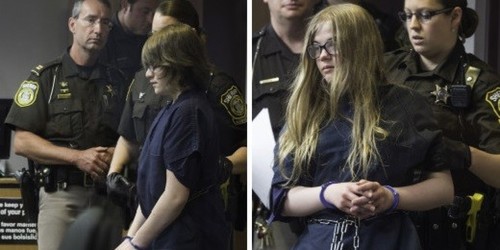 "A police criminal complaint filed against two 12-year-old girls who allegedly stabbed their 12-year-old friend 19 times this past weekend offers dark reading about the vicious attack and the girls' alleged motive."
Geyser was initially hesitant to stab the victim and said, "I'm not going to until you tell me to." Weier allegedly replied, "Go ballistic, go crazy … Now."
The victim, despite her injuries, managed to get up and scream, "I hate you." She attempted to walk to a nearby street, but Weier allegedly grabbed her and pulled her back. Weier told police she asked the victim to lie down and be quiet and told her she would get help, even though she did not intend to do so, police said. Weier told police she hoped the victim would die so that Weier would see Slenderman, the complaint alleges.
The victim, who sustained numerous stab wounds to her torso, legs and arms, managed to crawl out of the woods. A passing bicyclist spotted her and called 911, police said.
The complaint states that the victim told authorities she had been stabbed by her best friend, Morgan Geyser. The two suspects were arrested shortly thereafter, while walking near Interstate 94, police said.
Questioned by police, Weier allegedly said, "The bad part of me wanted her to die, the good part of me wanted her to live."
Geyser allegedly confirmed to police much of what Weier told them, but claimed Weier was the first to stab the victim, the complaint says. Asked by police what she was attempting to do when she stabbed the victim, Geyser allegedly said, "I may as well just say it: Kill her."
Geyser ultimately said she was sorry for what happened, according to police, but added, "It was weird that I didn't feel remorse."
"I would say these girls had big imaginations and believed [in Slenderman] too much," McCann said. "[It] reminds me of the Salem witch trials — it all started with a story [and] then got out of hand."
According to James McCann, co-founder of A Paranormal Group, Slenderman appears in crowd-sourced fiction about a demon-oriented character who stalks, traumatizes and abducts children. "It's believed to reach his realm level, you have to kill somebody," McCann said.
Community Village's insight:
sociopath: diminished empathy and remorse, and disinhibited or bold behavior
I wonder if the parents had access to mental health care for their daughters?
I wonder if the parents knew their daughters were sociopaths?
PS – Does the U.S. have a sociopathic culture? Remember when the U.S. enslaved, abused, beat and lynched Black people for hundreds of years and the majority of the U.S. didn't put a stop to it?
Now the U.S. has New Jim Crow and ballooning mas incarceration. How long will this last? Hundreds of years?
See on www.huffingtonpost.com