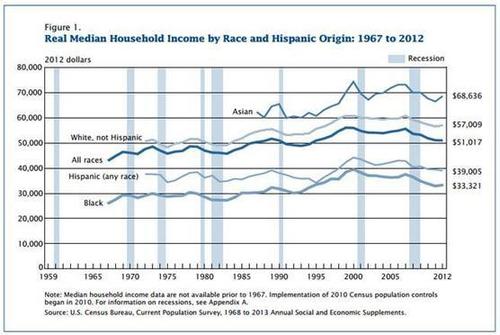 "Breaking out the data this way provides an opportunity to explore the structural reasons for this gap, like employment and education opportunities or barriers and immigration history. "
Community Village's insight:
Asian data is missing before 1987 or so. That's due to the U.S. Asian population not being large enough before then to be 'statistically significant'. The reason for the low Asian population is due to the Asian Exclusion Act of 1924 and the Chinese Exclusion Act of 1882.
Immigration policies are no longer based on race. They now prefer the highly educated, which explains the higher income.
If the U.S. would implement low cost public higher education it would level out this income gap over time.
The U.S. benefits from the educational infrastructure of other countries. The U.S. uses (im)migrant brains without making the investment in education for it's own citizens.
See on racemattersinstitute.org