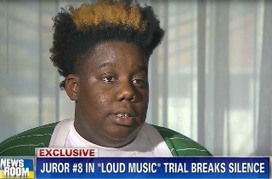 "Recently, two of the jurors in the case of Michael Dunn have interviewed with CNN. Both were asked if race was mentioned during deliberations.  Both answered "no."  Then, panels discussing the interviews voiced their disagreement with the jury not discussing race during deliberations.  Some online sources have also criticized those jurors. Even Jordan Davis' father said he could not see how it didn't come up since Dunn's girlfriend gave credible testimony that he used the words "thug music.""
Community Village's insight:
I do think bias played a part in Michael Dunn's actions. I suppose race was not mentioned by the prosecution because a hate crime would require more specific hate speech.
This is the hate speech I heard him use:
"rap crap"
"son of a bitch"
"animals" – when referring to others in the prison.
I suppose the prosecution didn't want to go down the hate crime road with only those three phrases.